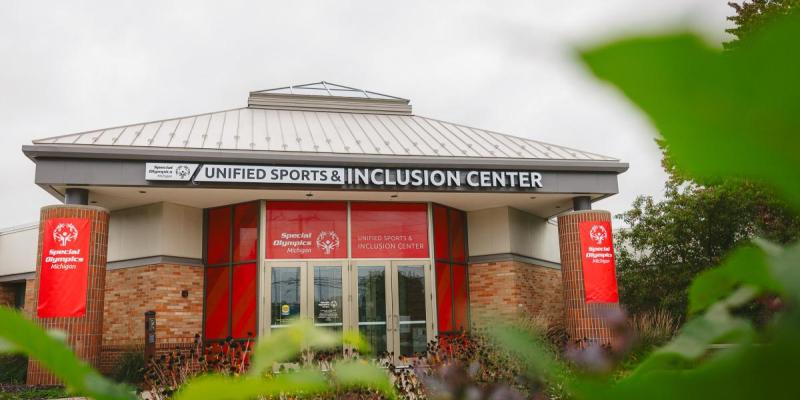 Groundbreaking Milestone Achieved at Special Olympics Michigan Unified Sports & Inclusion Center
Special Olympics Michigan (SOMI) is making major construction milestones transforming the once South Christian High School into the world's largest inclusive sports facility - the Special Olympics Michigan Unified Sports & Inclusion Center.
Special Olympics Michigan Debuts November Classic, Featuring Poly Hockey, Unified Bowling, & Flag Football
More than 1,100 athletes & Unified partners to participate in tournaments for the November Classic, part of SOMI State Fall Games. The November Classic is one of six state-level competitions held throughout the year at Special Olympics Michigan. Additionally, more than 700 competitions are offered at local and regional levels each year. Information on the tournaments can be found here.
Fisher Magnet Upper Academy Named National Banner Unified Champion School by Special Olympics International
Special Olympics Michigan (SOMI) is pleased to announce Fisher Magnet Upper Academy is being recognized as a Special Olympics National Banner School and an ESPN Honor Roll School for its work in the Unified Champion Schools strategy. This is the highest honor a school can receive by Special Olympics International. 
What We Do
Special Olympics Michigan provides year-round sports training and athletic competition for children and adults with intellectual disabilities.
Athletes develop physical fitness, demonstrate courage and experience joy while participating in the sharing of gifts, skills and friendship among their families, Special Olympics athletes and the community. The athletes achieve their dreams with the support of caring volunteers, coaches, family members and staff. Donations from Michigan citizens and businesses provide funding for the program.
23,807 Participants
24 Sports
2,954 Active Certified Coaches
23,216 Volunteers
SOMI Programs
Special Olympics Michigan has a variety of programs that promote awareness, inclusion, unity, health, and more.