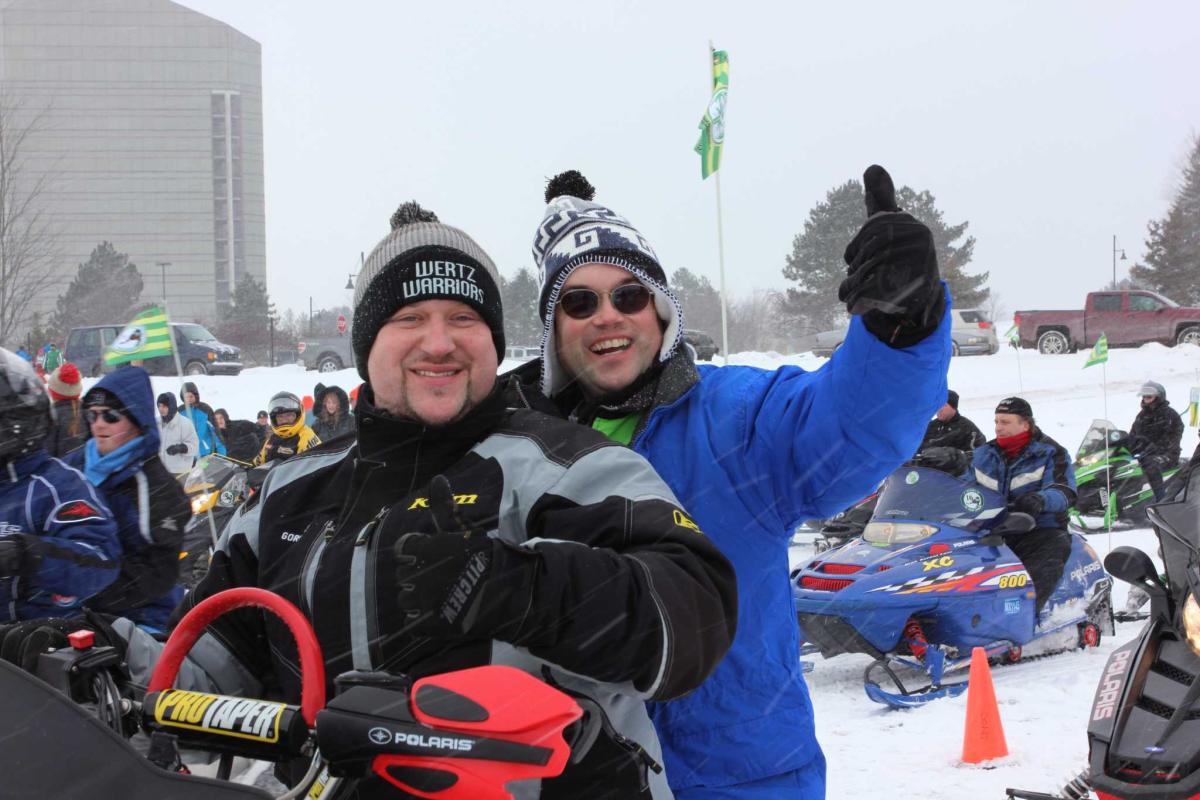 Sunday, January 29, the Wertz Warriors will take off on their annual week-long, 900-mile snowmobile endurance ride from Clinton Township to Mackinaw City, raising money and awareness for Special Olympics Michigan (SOMI). This year marks the 42nd ride of the Wertz Warriors.
"I am involved with Special Olympics not to coach athletes, but to learn from them," said Mark Young, a Wertz Warrior since 2014. "Taking this ride each year has been one of the most amazing experiences of my life. It's not only fun but a fundraising group that holds one another accountable. We expect each member to pull their own weight, knowing the impact it has on allowing athletes to compete."
Former Detroit Tiger and Michigan Hall of Fame member Vic Wertz formed Wertz Warriors in 1981 with a dream of underwriting the Special Olympics Michigan State Winter Games. The idea was to create an endurance snowmobile ride throughout northern Michigan that would help raise funds and awareness for those with intellectual disabilities. Since the inaugural ride in 1982, Wertz Warriors has raised more than $14.3 million for Special Olympics Michigan athletes.
Presenting Partner of the 2023 SOMI State Winter Games, January 31 – February 3, Wertz Warriors is a group of nearly 100 dedicated individuals. The Wertz Warriors will arrive at the Grand Traverse Resort & Spa Wednesday, February 1 – the first full day of Winter Games sports competition. Athletes will be offered free snowmobile rides and the opportunity to attend an autograph session. 
Detroit Lions great Luther Bradley returns to the Wertz Warriors for the duration of the ride this year. Bradley was an All-American defensive back at Notre Dame and member of two national championship teams with the Fighting Irish. A first-round draft pick of the Detroit Lions in 1978, Bradley played four seasons in Detroit, later spending three years in the United States Football League (USFL) and is the league's all-time interception leader.
This year, Bradley will be joined by Detroit Lions legend Eric Hipple. Playing ten seasons as quarterback for the Lions (1980 – 1989), Hipple participated in 102 games with 830 completions for 10,711 yards and 55 touchdowns. Hipple has dedicated much of his recent time to educating people on mental illness and serves as the Outreach Coordinator for the Depression Center of the University of Michigan.
The Wertz Warriors schedule (subject to change) can be viewed here.