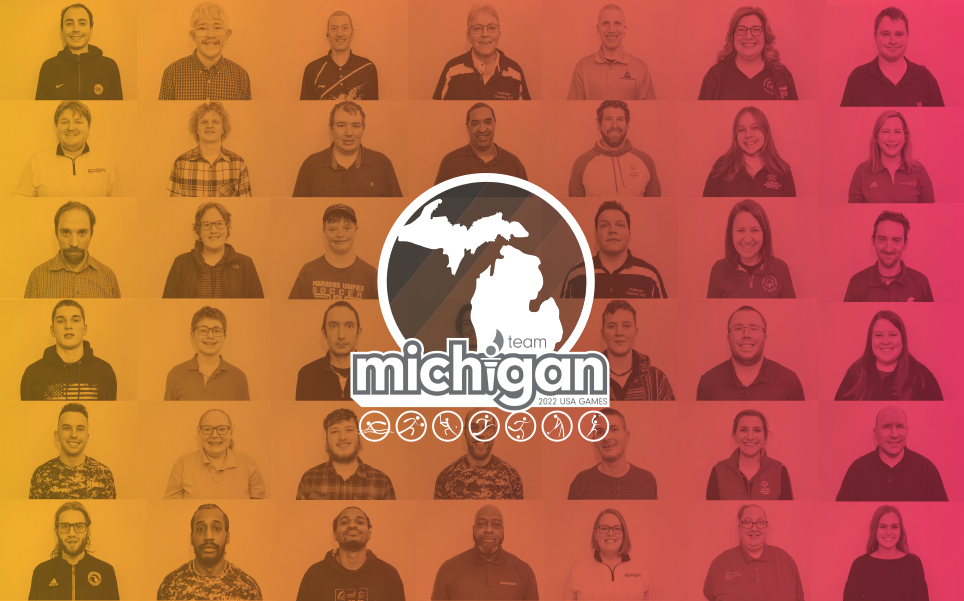 STATEWIDE, Mich. – More than 50 Special Olympics Michigan (SOMI) athletes, Unified Partners, coaches, and support staff have earned a place on Team Michigan for the 2022 Special Olympics USA Games hosted in Orlando, Florida this June. 
"This is my dream come true," said Tyler Lawton, Athletics qualifier for Team Michigan. "I have been trying for 17 years. I have been working hard. I can't thank my coaches and teammates enough for pushing me."
June 5 -12, the 2022 Special Olympics USA Games will unite more than 5,500 participants from all 50 states and the Caribbean during one of the country's most cherished sporting events. The athletes of Special Olympics will display the power of sport in more than 19 forms of competition during the week-long event, celebrating their dedication and perseverance in creating a more inclusive world. 
Earlier this year, Team Michigan members learned they qualified for USA Games in a surprise reveal. Each moment was captured on video – and the reactions are memorable!
"We had been talking about Florida for a little bit, but we didn't know if it was going to happen, even after that championship game," said Ty Van Wieren, Holland Christian's head Unified soccer coach. "For Special Olympics Michigan to surprise the kids, it was the coolest thing to see their reaction."
Special Olympics is dedicated to promoting social inclusion through shared sports training and competition experiences. Nearly 1.4 million people worldwide take part in Unified Sports, breaking down stereotypes about people with intellectual disabilities. 
Track
Julian Borst (A16), Athlete
Tyler Lawton (A5), Athlete
Dave Pruder (A9), Coach
Basketball (A15)
Andrew Howell, Athlete 
Fremier Collazo, Athlete
Marquise Eason, Athlete
Deontay Giles, Athlete
Anthony Jasper, Athlete
Nathaniel Perkins, Athlete
Oren Ramsey, Athlete
Rasheen Hatton, Athlete
Fred McFadden, Coach
Bowling
Tyler Baxter (A20), Athlete
Brice Chase (A15), Athlete
Christina Homminga (A9), Athlete
Amanda Davis (A5), Athlete
Allison Wonch (A8), Coach
Softball (A23)
Scott Barclay, Athlete
Willford "Ray" Bice, Athlete
Matthew Brown, Athlete
Kevin Conaway, Athlete
Spencer Garner, Athlete
Brian Hamilton, Athlete
Drew Holewinski, Athlete
Joseph Keller, Athlete
Luke Monroe, Athlete
Dominic "Tony" Rosati, Athlete
Dennis Kotlarek, Athlete
Randall Saliers, Coach
Greg Brown, Coach
Wilford "Ray" Bice, Coach
Swimming
Kaitlin Konynenbelt (A12), Athlete
Ashley Mokma (A12), Athlete
Anne Goudie (A8), Coach
Unified Basketball (A13)
Dalvin Keller, Athlete
John Marsiglio, Athlete
Clinton Bookmiller-Haynes, Athlete
Drew Callahan, Athlete
Deshaun Jones, Athlete
David Rice, Athlete
Cole Skinner, Unified Partner
Trevor Haynes, Unified Partner 
Michael Owens, Unified Partner
River Langford, Unified Partner
Sheila Gafney, Coach
James Jewell, Coach
Golf
Alikhan Amlani (A13), Athlete
Kurt Chapelle (A13), Unified Partner
Mike Mignano (A8), Coach
Unified Soccer (A12)
Joshua Vanderbilt, Athlete 
Tyler VanHaitsma, Athlete
Zach Maat, Athlete
Benjamin Feaster, Athlete
Jed Comden, Athlete
Samual Kass, Athlete
Caden Brinks, Partner
Kate Schemper, Partner
Shane VanderZee, Partner
Lydia DeBlecourt, Partner
Teddy Hallebeek, Partner
Spencer Wisdom, Partner
Ann Pawloski, Coach
Ty VanWieren, Coach
Noah Kanis, Coach
Youth Leadership Experience
Maria Huhta (A15)
Caleb Foster (A16)
Jamie Cotter 
Staff
Heather Burke, Head of Delegation
Kellie Murphy, Assistant Head of Delegation
Nick Caudle, Assistant Staff
Avery Reinwald, Assistant Staff
Bo Parker, Assistant Staff (Media)
Julie Middlin, Assistant Staff (Medical)