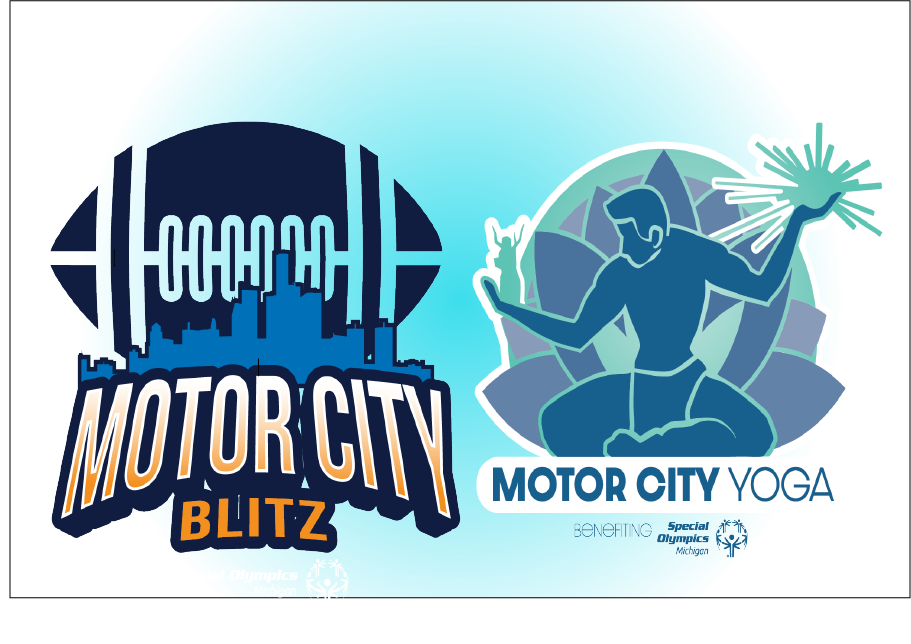 Have you dreamed of your chance to take the turf at a professional sports stadium? Make that dream a reality all while contributing to the Inclusion Revolution.  Special Olympics Michigan (SOMI) is pleased to announce the inaugural year for two unique fundraisers: Motor City Yoga and Motor City Blitz. The two separate events will happen on the same day, May 14, 2022, at the home of the Detroit Lions: Ford Field. All proceeds will benefit sports and health programming for athletes with intellectual disabilities in and around the Detroit area, allowing them to participate in regional and state competitions at no cost to them – all while spreading the message of unity across the state!
Motor City Yoga is a unique twist on yoga. Join in a 60-minute session on the turf of Ford Field, for a morning of wellness and relaxation benefitting the athletes of Special Olympics Michigan. By participating in Motor City Yoga, you'll be providing wellness opportunities to kids & adults with intellectual disabilities. Limited walk-in spots may be available, paid cash-only at the door. Pre-registration is required to guarantee your spot at the event. Doors open at 7:30 a.m., with an hour-long alignment-focused yoga session hosted by Citizen Yoga to start at 8:30 a.m. Register today at somi.org/yoga.
For aspiring football stars, this is your chance to show your stuff at the Motor City Blitz; a Youth & Adult Flag Football Tournament to benefit Special Olympics Michigan! Register your team for 6-on-6 flag football play, where you'll compete on the home turf of the Detroit Lions. This tournament offers a limited number of teams per division that raise a minimum of $1,500 to play. Teams will be placed on a waiting list when the tournament is fully booked. The schedule for the tournament is dependent on the number of teams registered. The event starts late morning May 14, with an official start time TBA. Arrival time will be emailed to Team Captains prior to the event.
DIVISIONS
This is an official 6-on-6 flag football tournament played in 30-minute games. Teams are allowed up to 15 players on their roster, and up to 2 coaches. The division is as follows:
Competitive Division - this will be the most active adult division, with teams looking for a high-level experience.
Recreational Division - for adult teams that are a bit less competitive and more focused on having fun and enjoying the experience! Depending on team registrations, a subdivision of "Ages 35+" may be added. 
High School Division - must have birth dates between 12/1/2011-12/1/2004
Middle School Division - must have birth dates between 11/30/2008-11/30/2011
Unified Division - a Special Olympics Unified Team, representing a UCS High School or SO College program. Co-Ed or single-gender teams are welcome.
Register today at somi.org/blitz.