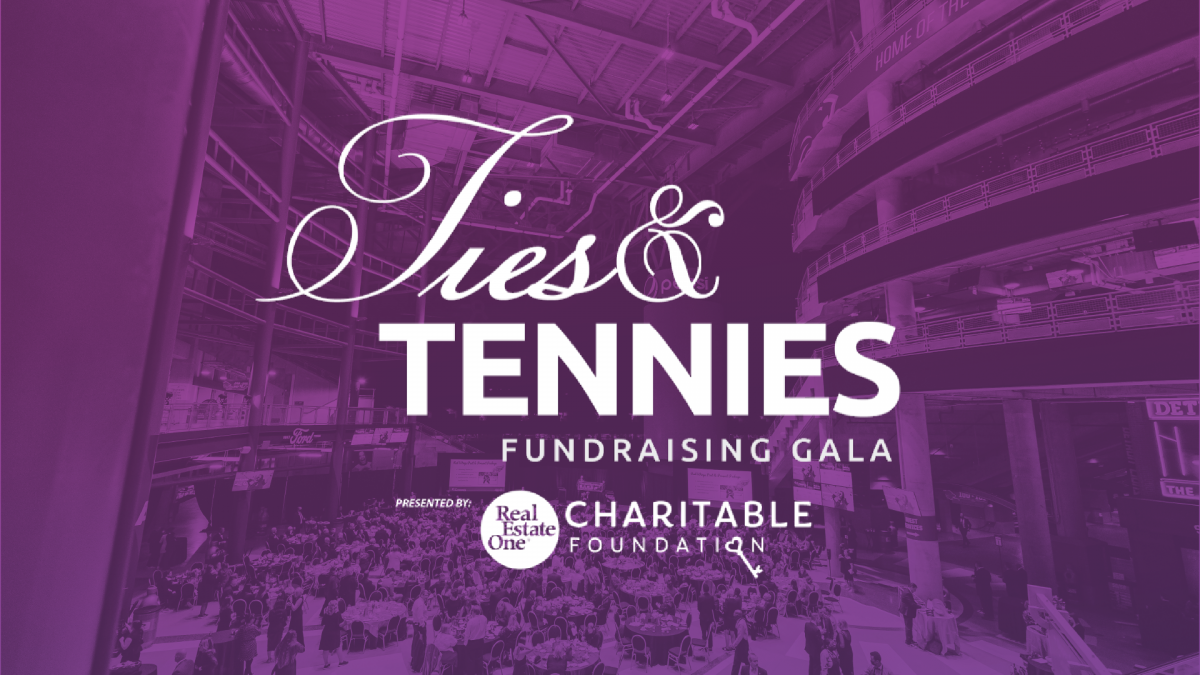 (DETROIT, Mich.) – It was a record-breaking evening at Ford Field for the return of the in-person Ties and Tennies Gala for Special Olympics Michigan (SOMI). The November 5th event, presented by Real Estate One Charitable Foundation (REOCF) raised more than $255,000 dollars, making 2021 the most profitable year for the annual fundraiser. Guests were able to attend the event in-person or participate from home virtually.
Since its inception, the Ties and Tennies Gala – an event where attendees pair their favorite athletic footwear with black-tie attire – has empowered athletes with intellectual disabilities (ID) by celebrating their abilities. Attendees were able to meet SOMI athletes, learn about the Special Olympics sports, and throw a hand of bocce with an athlete at the event. 
"It was so much fun to be up on stage in a room full of people," said Liz Viele, Co-Emcee, Special Olympics Michigan Board Member, and Special Olympics Michigan Athlete. "I love showing people how much I love to compete and what I am capable of. They were cheering me on all night."
The evening was also an opportunity to celebrate the upcoming Special Olympics Unified Cup Detroit 2022 — the World Cup of soccer for Special Olympics. Next August, Special Olympics Michigan will host 24 Unified soccer teams from around the globe in Detroit, as part of an international movement utilizing the joy of sport to bring athletes of all abilities together. 
 "Charged with the responsibility of changing the world, our athletes take on the task with a smile, inspiring us along the way," said Tim Hileman, President and CEO of Special Olympics Michigan. "The Ties and Tennies Gala is our turn to return the favor. 
​It is the financial support at events like this that allows our athletes to compete, share their stories and continue to crush the long-standing barriers in the Inclusion Revolution."
Money raised allows SOMI athletes to compete, travel and spread a message of inclusion year-round at no cost to them. Guests of the gala were invited to offer athletes a Medal Moment. Special Olympics athletes' strength and perseverance are honored by the medals earned in competition. Earning a medal is a moment like no other, filled with pride and joy. A gift of $25.00 supplies a gold, silver, and bronze medal for a SOMI tournament, ensuring each athlete has a chance at earning their Medal Moment. 
Special Olympics is dedicated to promoting social inclusion through shared sports training and competition experiences. Nearly 1.4 million people worldwide take part in Unified Sports, breaking down stereotypes about people with intellectual disabilities.
Real Estate One Charitable Foundation and the Real Estate One Family of Companies have been long time supporters of the Special Olympics Movement and are true advocates for the Inclusion Revolution. Additional sponsors include KPMG, Magna International, HealthQuest Physical Therapy, Amerisure, Autoliv, Michigan Institute of Advanced Surgeries, and Plastipak. 
View the Ties and Tennies Gala highlight reel here.