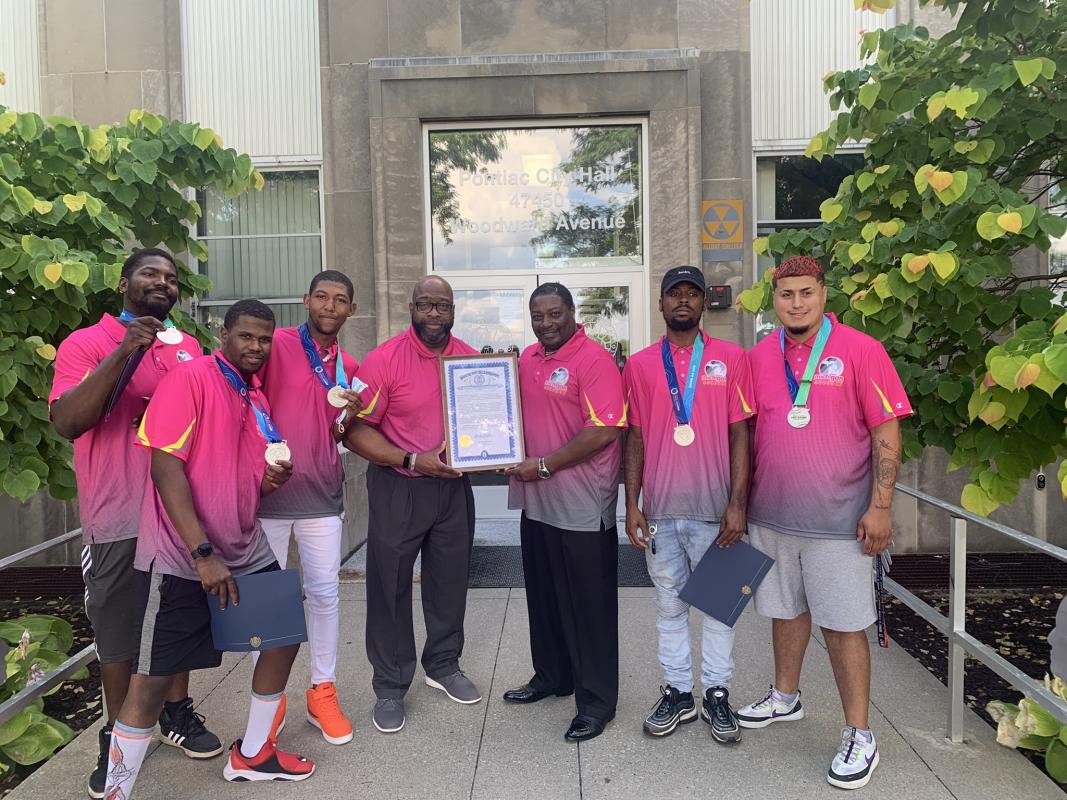 PONTIAC, MI – Pontiac's Special Olympics Michigan basketball team was honored by City Council for their silver medal-winning performance at USA Games in Orlando earlier this summer. The City Council issued a resolution during a public meeting, honoring the success of Team Pontiac for their commitment to sport and perseverance.
However, the team's success didn't happen overnight. Fred McFadden Jr., Team Pontiac Assistant Coach, talked about the team's road to success. "I've always wanted to get into something with Special Olympics when I started in the school district., but I had to bide my time until a spot came open" However, eight years ago, Fred got his chance to work with head coach Tony Pittman. From there, they built a team focused on principles on and off the court.
"We always said 'It is easy teaching our athletes to dribble the basketball and shoot it," McFadden reflected. "The biggest part is raising these boys to men. Every day is now a teaching moment, as we got them to buy into it."
This approach had a big impact, leading Team Pontiac to represent Michigan in the 2018 USA Games in Seattle and, more recently, Orlando last month.
"They were so excited to go to Florida, finally to get back on the court, especially after the pandemic," Coach McFadden said. While the team was optimistic about their chances to take home gold, ultimately, Team Michigan lost to Team New Jersey in the final medal round, resulting in 2nd place.
The final loss didn't defeat the team. Team Pontiac was proud of their accomplishments representing Michigan at USA Games. "Our players were so happy about those medals," Coach McFadden recalls. "For some of them, it was their first time getting a medal at the national level. They were overwhelmed and excited and we loved to see the joy they experienced down there - they were having the times of their lives"
The City Council resolution continued the celebration for Team Pontiac, when athletes were honored with an official declaration certificate. "Once they got their certificates, they were happy, they were proud of what they had accomplished," McFadden said. "These are players that once they were out of school, people gave up on them. We brought them in as our sons, and we molded them."
For the future, Team Pontiac isn't resting on their laurels; the coaching staff has eyes on taking his experience with Special Olympics and USA Games and growing it further in the Pontiac community.
"We want to bring more of the Special Olympics experience to the city. We want to see more athletes, more sports..." Coach McFadden continued, "It's an honor and blessing to be part of an organization like Special Olympics. They stand up for everybody, nobody is excluded, everyone has a chance to be part of something special. I would encourage other communities to creating Special Olympics environment, so we can take more people to another USA Games in the future."
In the meantime, Team Pontiac continues to train for an opportunity to represent Team Michigan in Minnesota for the 2026 USA Games.
Media Assets:
-       Video B-Roll of Team Michigan/Team Pontiac's competition during the 2022 Games
-       Photos of Team Michigan/Team Pontiac's competition during the 2022 Games