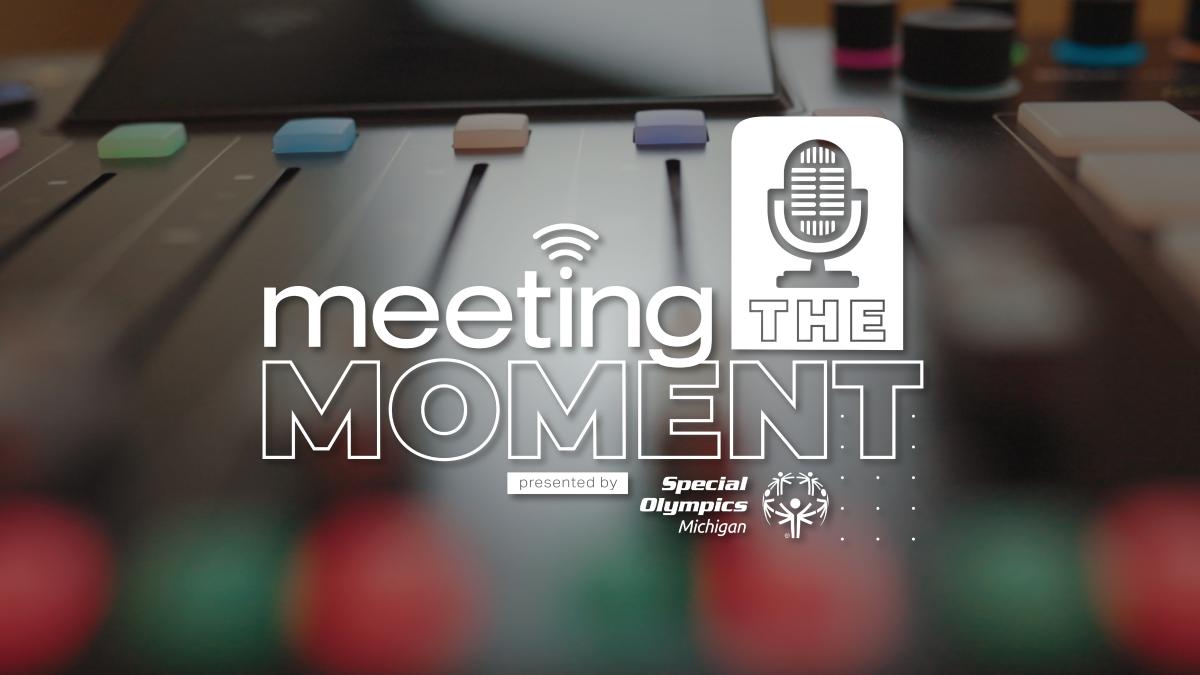 Stories from and inspired by the Special Olympics inclusion movement across Michigan and beyond.
Special Olympics Michigan's podcast is inspired by our Special Olympics athletes - the true game-changers who stand tall, push comfort zones, and inspire us when it counts - in the moment. Through our newest storytelling platform, we share stories about how Special Olympics game-changers met "their moment" and rose above, to make a more inclusive, just world. 
The first five episodes launch May 25, 2023, with new episodes released weekly through June at 5:00 a.m. on Thursdays. 
Follow Meeting the Moment for updates and the latest episodes on Spotify.
Episode 1: LIFE AFTER AUDREY - LISTEN 
Live Boldly. Love Big. Pass it on. How a family turned loss into love. The Red Glasses Movement was started in honor of Audrey Jandernoa, who passed away at just 5 years old. Audrey was a remarkable little lady born with Down syndrome and a congenital heart defect. These were not the things that defined her. Audrey was defined by her Red Glasses, contagious smile, her curious mind, and giant, loving heart. If you knew Audrey, then you were most likely crushed by one of her giant hugs or watched her run with a purpose to find the next great adventure. Audrey came across many obstacles in life whether medically or cognitively. She overcame them all with hard work and a smile on her face and even more love to give and share.
Episode 2: MORE THAN JUST MY 9 TO 5 - LISTEN
Michigan Department of Corrections Manager, Lisa Hendricks, speaks on growing up with two sisters with intellectual disabilities. While she was exposed and had a love for Special Olympics Michigan at an early age, it was grieving the death of a sister and a week-long ride in an RV with the Michigan Law Enforcement Torch Run (LETR) that healed her soul. Hear how her mission in life is to leave behind a legacy beyond her 9 to 5, and hopes others will do the same. 
Episode 3: THE GOOD KIND OF LOBBYIST - LISTEN
Executive Director of the Down Syndrome Association of West Michigan, Katie Hollis, and New York Special Olympics Athlete/National Down Syndrome Association Board Member, Kayla McKeon, speak on the push to change laws in the effort to create a more inclusive world for all. How they each landed unexpected jobs as lobbyists. And, meet the mind behind the creation of the first Barbie with Down syndrome. It's toy maker Matel's first change to the iconic toy in its 65-year history.
Episode 4: HATERS GUNNA HATE - LISTEN
How a Unified pair faced their haters and overcame the R-Word. Meet Special Olympics Michigan Unified Partners, Ajene Robinson and Delaney Seltzer. The two have been spreading a message of Inclusion since high school, letting their voices grow louder instead of silent when disrespected by their peers during a presentation on hurtful language geared toward those with intellectual disabilities.
Episode 5: TOMORROW IS NEVER PROMISED - LISTEN
Special Olympics Michigan athlete and Special Olympics U.S. Youth Ambassador, Max Hinga, doesn't know the word "no," despite having heard it from others many times throughout his life. In this episode, Max explains how he's embraced his autism without letting it define him, and why he's encouraging others to "just keep being you."