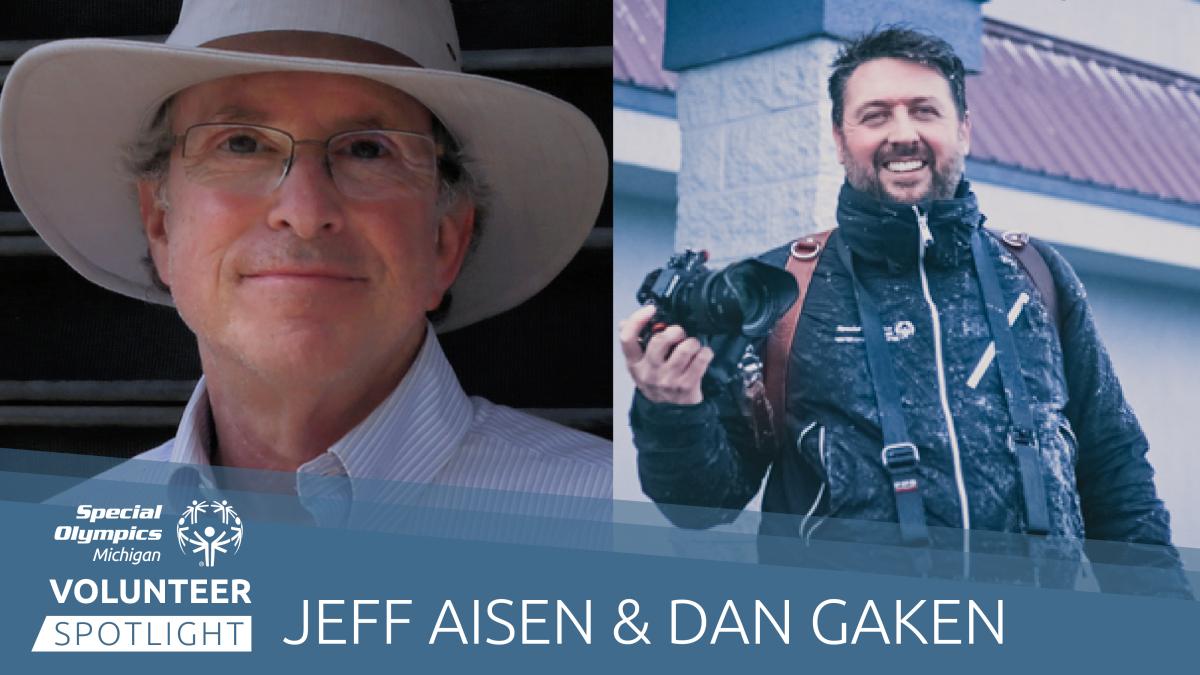 They're out there, waiting patiently for that perfect moment. That hopeful smile at the starting line. A fist bump before the start of competition. That triumphant push across the finish line. From the snowy ski hills of Northern Michigan to the hot summer sun of a Mount Pleasant track, Special Olympics Michigan (SOMI) is blessed to have active, on-site volunteer photographers.
Over the past decade, Jeff Aisen and Dan Gaken have become two of SOMI's most notable volunteer photographers, donating countless hours of time and talent to the Special Olympics movement. However, their path to becoming veteran volunteers is very different from one another.
Jeff Aisen has served SOMI as a volunteer photographer for the past eight years, capturing everything from Polar Plunges to state competitions. Aisen has won international awards for his work with Special Olympics Michigan. However, his introduction to the organization started on a whim. 
"My first event was Poly Hockey," Aisen remembers. "I guess I probably saw online somehow that there was this Special Olympics event in Lansing and it looked interesting. So, I got in touch with the person in charge at the time, and said 'I do volunteer photography.' And he said, 'Great to have you.' The rest is history."
"My takeaway from that first experience was that everybody was just so happy being there," Aisen continued. "At the time, I was very negative about organized sports like Little League where someone's determined to win the championship at all costs, no matter what. I thought there should be elements on learning how to play, sportsmanship, and having a good time - and that's what everybody was doing at Special Olympics events."
The positive atmosphere has been a common thread through Aisen's experience volunteering at Special Olympics. "It's fun," Aisen said. "Everyone's happy. Everyone's having a good time and participating to the best of their abilities."
Dan Gaken's story started differently, as he had been volunteering with Special Olympics from a young age. "I think I've been affiliated in some way with Special Olympics my whole life," Gaken recounts, growing up in a household of educators that would chaperone events. "We were always around Special Olympics and so I think I started as a fan." 
Gaken's role began to evolve ten years ago, when he was invited to come to Special Olympics Winter Games in Traverse City as a volunteer photographer.
"From a photography perspective, I remember those first years going up to Winter Games in Traverse City and thinking a lot about it from a technical aspect," Gaken explained. "Do I need a polarizer because I'm shooting out in the snow? How should I handle white balance? I was in the mindset of trying to get that shot of that skier with the snow coming off their skis. I had a lot of ideas on what I thought I needed to do."
"However," Gaken continued, "as I was starting to finalize the images to share, I found that some of the pictures that I was drawn to the most maybe were not ones that I would define as traditional 'sports images.' They were the ones of athletes celebrating getting their medals. They were young athletes engaging in an obstacle course and parachute activity." It was then, Gaken realized, that sports were only part of the equation, and that he had an opportunity to showcase other aspects of the Special Olympics Movement."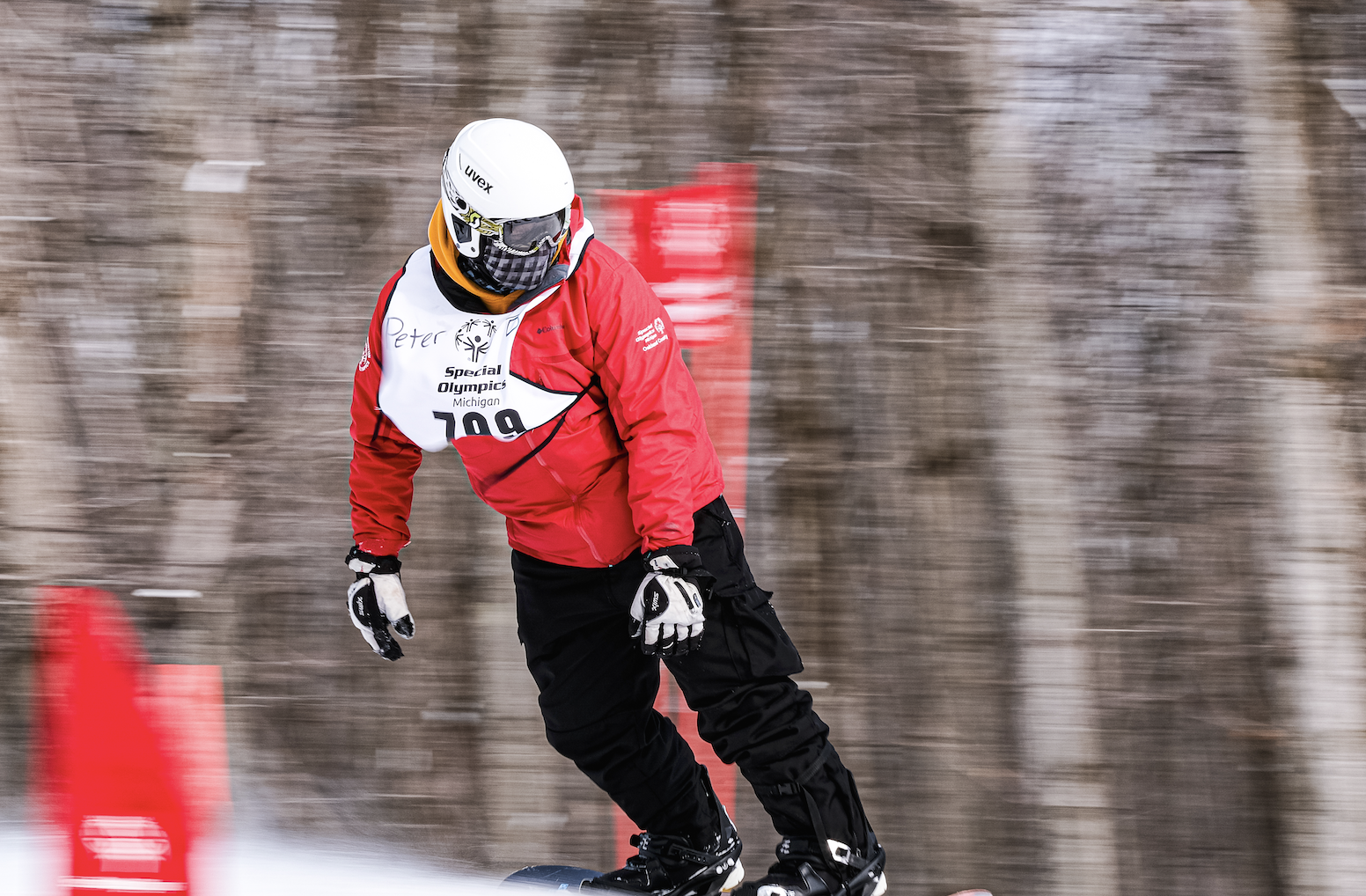 "Special Olympics events have so many moving parts," Gaken said. "You think about the staff in that they are handling logistics, transportation, lodging, meals... You think about the coaches and the area directors that work with these athletes year-round... You think about how hard those athletes train and work on their nutrition and get ready to compete... And then the hundreds of volunteers that give their time. It's so easy to see only a singular point of that. Being a photographer across the events has shown me the scope of this movement, which is thousands of people making a bold statement that inclusion matters. For me, that has been the most humbling part - to see how large this movement is and also the challenge to humanize it through the images I take."
Similarly, Aisen hopes the thousands of images go beyond the social media posts and photo albums to impact the larger community. "I hope with the pictures that I take that the athletes are happy. I try to get pictures of refs and volunteers so people say, 'Oh, I'd like to do that,' and then it grows."
To those interested in volunteering, Aisen's advice is simple: "I'd just recommend them to do it. Just go and volunteer and everybody will be happy to see you. You're going to have a good time and you're going to help a lot of people. Everyone is happy to have volunteers there. Everyone's working together."
Gaken echoes that everyone has a place to be part of this movement. "People should know volunteering is a blast. There's a place for everybody's talents in Special Olympics. I mean, that's the heart of the movement. It's fun. And you're making a difference while doing that."
If you are interested in volunteering for the 2023 SOMI State Summer Games, visit our volunteer page.
If you are interested in helping as a volunteer photographer for a Special Olympics Michigan event, please contact Bo.Parker@somi.org.
--- 
Jeff Aisen has served SOMI as a volunteer photographer for the past 8 years. Aisen has won international awards for his work with SOMI and does volunteer photography for other non-profits around the state.
Dan Gaken has served as a volunteer photographer for SOMI for the past 10 years. Gaken is also an internationally award-winning photographer and owns a freelance business, Dan Gaken Images.
Written by Bo Parker, Special Olympics Michigan Staff