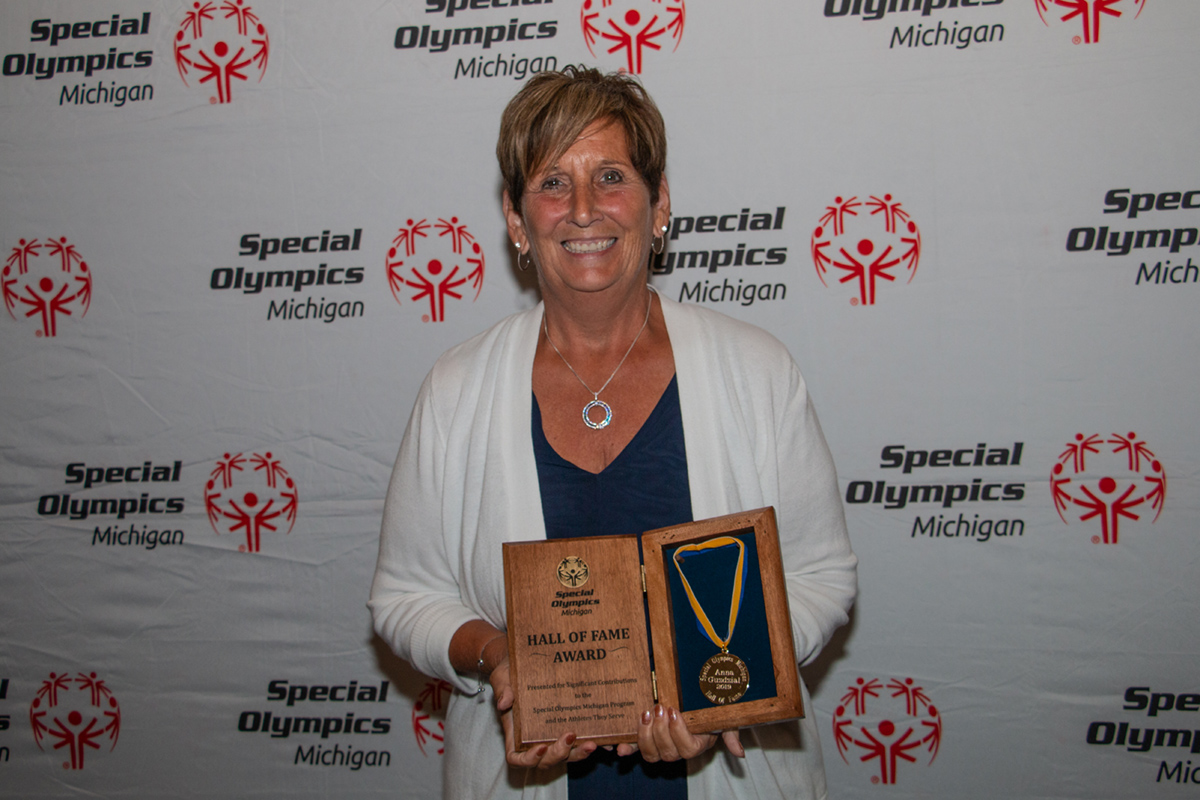 Former Special Olympics Michigan (SOMI) Chief Program Officer, Ann Guzdzial, was inducted into the Special Olympics Michigan Hall of Fame on Saturday, July 20, at the Radisson Hotel Lansing at the Capitol in Lansing.
After spending five years at Central Michigan University, Ann joined Special Olympics Michigan in 1992. Ann's first role at SOMI saw her in the accounting department, but she later moved to the sports and program side of the organization: first as Sports Service Coordinator, eventually working her way up to Chief Program Officer, where she was instrumental in leading Healthy Athletes initiatives, which provide free health screenings and wellness education to athletes.
Ann led the efforts of the Unified Champion Schools program in Michigan, taking it from one school district to more than 300 participating schools. She also helped start the Young Athletes and Unified Sports programs in Michigan and saw snowboarding, cycling and kayaking all come to be official sports during her tenure.
Ann will always be remembered as someone who put the athletes first and understood the importance of serving our volunteers to make Michigan one of the best Special Olympics programs in the country. Her impact on our organization will continue to be felt for generations to come.
Additional Honorees
In addition to the Hall of Fame induction, Special Olympics Michigan also honored the following people and organizations for their contributions to Special Olympics Michigan during the Hall of Fame Banquet on July 20:
Board Chair Award: Stuart Elsea
Spirit Award: Meredith Moran
Outstanding Civic Organization Award: Holland Elks Lodge #1315
Outstanding Business Award: Royal Scot
Outstanding Education Award: Lansing Public Schools
Outstanding Sports Award: Michigan State University Intramural Sports