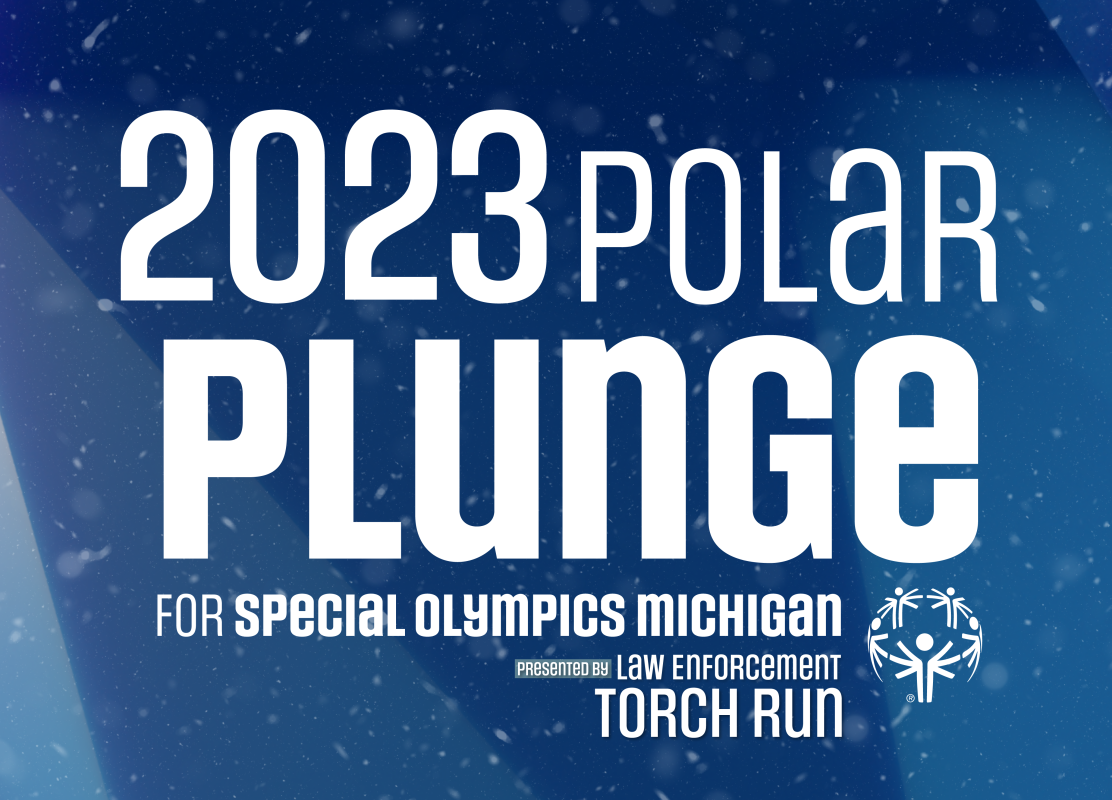 Each day the athletes of Special Olympics Michigan (SOMI) push themselves outside of their comfort zone, breaking down barriers in an effort to create a unified world. You're invited to make a splash and join them as they pave the way in the Inclusion Revolution by taking the Polar Plunge.
In 2023, SOMI will host more than 25 Polar Plunges with the goal of raising more than one point two million dollars. The funds raised will allow SOMI athletes to travel and compete in day-long sports competition throughout the year at no cost to them. The Polar Plunge is the single largest fundraiser for Special Olympics Michigan, generating a record-breaking $1.5 million in 2022. 
New this year, the SOMI Plungester – a semi-truck-sized pool on wheels – will be touring the state, making stops at various plunge locations. Thrill-seekers will have the opportunity to make an icy jump into the traveling trailer, earning elite bragging rights and capture a truly unique photo-worthy moment. 
Following the success of a week-long series of Cool Schools Polar Plunges in 2022, SOMI will offer two weeks of student-based plunge dates in 2023. The Cools Schools plunges encourage students and staff to come together and celebrate the Special Olympics movement by taking the Plunge together, raising funds as a student body. Participants earn incentives and a chance to make the jump during the school day on campus. 
For those seeking an alternative to an icy swim, SOMI is offering a Frozen 5K at Polar Plunge locations in Detroit, Ann Arbor, and Traverse City – or the opportunity to participate virtually. The event promotes a year-round healthy lifestyle, by encouraging you and your loved ones to stay active throughout the winter months. 
The Polar Plunge is presented by the Law Enforcement Torch Run (LETR), a movement of volunteers dedicated to increasing awareness and funds for SOMI athletes across the state. In 2022, through grassroots fundraising efforts, LETR raised more than $2 million for SOMI athletes. 
Special Olympics Michigan is dedicated to creating a world that accepts and welcomes every single person regardless of ability or disability. Make a statement and a splash by registering at plungemi.org! 
Clarklake - Saturday, January 28

Turk Lake (Greenville) - Saturday, February 4

Oakland County (Walled Lake) - Saturday, February 4

Fenton - Saturday, February 4

Southwest Michigan (Stevensville) - Saturday, February 4

Lansing - Sunday, February 5

Lake City - Saturday, February 11

Grand Rapids - Saturday, February 11

Mt. Pleasant - Saturday, February 11

Munising - Saturday, February 11

Washtenaw County (Ann Arbor) - Saturday, February 11

Wayne County - 

Saturday, February 18

Kalamazoo - 

Saturday, February 18

Great Lakes Bay (Midland) - 

Saturday, February 18

Alpena - 

Saturday, February 18

Macomb County - 

Saturday, February 18

Big Rapids - 

Saturday, February 25

Legislative (Lansing)

- 

Thursday, March 2

Detroit

- 

Friday, March 3

Lapeer - Saturday, March 4

Muskegon - Saturday, March 4

Grand Traverse -  Saturday, March 11

Marquette

- 

Saturday, March 18

Manistee - Saturday, March 18
Cool Schools Polar Plunge Locations:
Grosse Point High School - Friday, March 3

Zeeland East High School - Monday, March 6

West Bloomfield High School - Tuesday, March 7

Northville High School - Tuesday, March 7

Haslett High School  - Wednesday, March 8

Holland Christian High School - Thursday, March 9