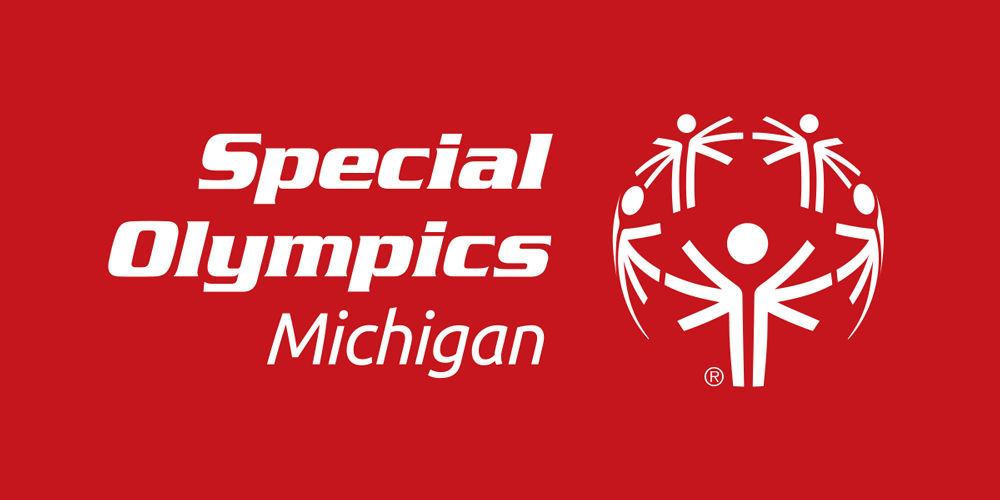 May 30 - June 1, 2019
Central Michigan University - Mt. Pleasant
The State Summer Games is the largest Special Olympics Michigan event with 2,900 SOMI athletes along with an additional 3,400 coaches, volunteers, chaperones, family members and spectators attending each year.
Competition
Ten types of competition are offered at the State Summer Games each year, including athletics, bocce, bowling, gymnastics, horseshoes, powerlifting, swimming, weightlifting, volleyball, developmental athletics and motor activities training program.
Athletes compete in State Summer Games after qualifying at local competitions throughout the year.
The State Summer Games is one of six annual statewide competitions for the athletes of Special Olympics Michigan. The Special Olympics Michigan programs are offered at no cost to the athletes or their families.
The State Summer Games is proudly presented by SpartanNash, the only Statewide Premier Medallion Partner of Special Olympics Michigan.
2018 Results
Volunteer
Online volunteer registration is open now at http://somich.vsyshost.com/vsys
On the day of your volunteer shift, please report to the volunteer check-in booth on the SAC lawn. The check-in booth opens at 7:30 AM.
Special Olympics Michigan App
The Special Olympic Michigan app is available for download for free from the Apple App Store and Google Play Store. The app includes interactive schedules, maps, venue information, competition results, videos, social media feeds and more! Should any schedule changes happen during the Games, the app will be updated automatically to reflect these changes. This is the same Special Olympics Michigan app that was used for the 2019 State Winter Games, so you may already have it on your device. If so, be sure to update your app to the latest version, which includes Summer Games info.
State Summer Games General Schedule (Subject to Change)
Thursday, May 30, 2019
9:00 a.m. - 10:00 p.m.: Nerve Center - SOMI Office
10:30 a.m.: Unified Sports Day Registration - Field Hockey Field
11:00 p.m.: Unified Sports Day Rally - Field Hockey Field
11:30 a.m. - 4:00 p.m.: Unified Sports Day Bocce Tournament - Field Hockey Field
12:00 p.m. - 4:00 p.m.: Unified Sports Day Track Event - Bennett Outdoor Track
1:00 p.m. - 4:00 p.m.: Opening Eyes Vision Screening - IAC Turf Bay
1:00 p.m. - 6:00 p.m.: Information/Volunteer Check-In Booth - SAC Lawn
4:00 p.m. - 6:00 p.m.: SpartanNash Tailgate Party - Lot 64
5:00 p.m. - 6:00 p.m.: VIP Reception - Courtyard by Marriott
6:15 p.m.: Parade and Opening Ceremony - Kelly/Shorts Stadium
8:00 p.m. - 9:00 p.m.: Kiwanis Carnival - Rose Ponds Area
Friday, May 31, 2019
7:00 a.m. - 10:00 p.m.: Nerve Center - SOMI Office
7:30 a.m. - 4:00 p.m.: Information/Volunteer Check-In Booth - SAC Lawn
8:00 a.m. - 12:00 p.m.: Competition - Sport Venues
8:00 a.m. - 4:00 p.m.: Opening Eyes - IAC Turf Bay
9:00 a.m. - 11:00 a.m.: Parent/Family Reception - SAC West Conference Room & Bennett Track
9:00 a.m. - 4:00 p.m.: Healthy Athlete Village - IAC Turf Bay
9:00 a.m. - 4:00 p.m.: Healthy Hearing - IAC Testing Center
9:00 a.m. - Noon & 1:00 p.m. - 4:30 p.m.: Special Events - Rose Ponds Area
10:30 a.m. - 1:30 p.m.: Young Athletes event - McGuirk Arena
12:45 p.m.- 5:00 p.m.: Competition - Sport Venues
1:00 p.m. - 4:00 p.m.: Parent/Family Reception - SAC West Conference Room & Bennett Track
6:00 p.m. - 6:30 p.m.: Rev It Up Ride Procession to Stadium - Kelly/Shorts Stadium
6:30 p.m. - 7:00 p.m.: Rev It Up Ride Autographs - Kelly/Shorts Stadium
7:00 p.m. - 9:00 p.m.: Closing Ceremony and Victory Dance - Kelly/Shorts Stadium
7:00 p.m. - 9:00 p.m.: Open Bowling - SAC Lanes
9:30 p.m. - Midnight: Venue Volunteer Appreciation - Riverwood Golf Course
Saturday, June 1, 2019
7:00 a.m. - 6:00 p.m.: Nerve Center - SOMI Office
7:30 a.m. - 2:00 p.m.: Information/Volunteer Check-In Booth - SAC Lawn
8:00 a.m. - 12:00 p.m.: Competition - Sport Venues
8:00 a.m. - 12:00 p.m.: Opening Eyes - IAC Turf Bay
9:00 a.m. - 10:30 a.m.: Young Athletes Healthy Athlete Opportunity - IAC Turf Bay
9:00 a.m. - 11:00 a.m.: Parent/Family Reception - SAC West Conference Room & Bennett Track
9:00 a.m. - 12:00 p.m.: Healthy Hearing - IAC Testing Center
9:00 a.m. - 12:00 p.m.: Healthy Athlete Village - IAC Turf Bay
11:00 a.m. - 12:30 p.m.: Young Athletes event - McGuirk Arena
1:00 p.m. - 4:00 p.m.: Competition - Sport Venues
5:00 p.m.: Check out