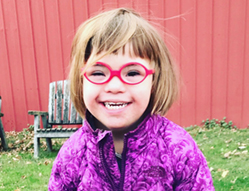 Do you remember the sense of accomplishment and camaraderie that you got (or still get) from competing in your favorite sports? The Special Olympics Michigan State Basketball Finals give people of all abilities a chance to be their best. Each year, more than 500 athletes and their families from across the state travel to Grand Rapids to compete in the State Basketball Finals. These athletes treasure their opportunity to stand in the spotlight.
"It feels great! It feels like I'm accepted," says Special Olympics Michigan basketball player, Luke Stevenson. "Some people who don't have disabilities like us think we can't do things like them. But we can. We really can!"
Join the Secchia, Jandernoa, Korte, and Custer families at the Athletes Like Audrey luncheon where all proceeds will help to build a sustaining fund for the State Basketball Finals to ensure that athletes of all abilities can continue competing for generations to come.
The luncheon is named for Audrey Jandernoa, daughter of Carl and Kelly Jandernoa and granddaughter of Mike and Sue Jandernoa. Audrey passed away in January of a strong virus and the #RedGlassesMovement has been created to spread Audrey's message "Live boldly, Love big, Pass it on".
Event Details
JW Marriott Grand Rapids
International Ballroom
11:30 AM - 12:00 PM - Registration
12:00 PM - 1:30 PM - Luncheon Program
Tickets are $100 each or $1,000 for eight tickets plus a table sponsorship. For more information and to purchase tickets, contact:
Krista Paulin
Sr. Director of Development
(616) 583-1543
Krista.Paulin@somi.org
Checks can be made out to Special Olympics Michigan and mailed to:
Special Olympics Michigan
160 68th Street Southwest
Grand Rapids, MI 49548
Honorary and Founding Chairs
Peter Secchia
Mike and Sue Jandernoa
Co-Chairs
Scott Custer
Carl and Kelly Jandernoa
David and Angela Korte
Emcee
Juliet Dragos
Live Auction
Jason Lamoreaux
Leadership Donors
Founding Partner: $500,000+

All-Star: $50,000+

Doug and Maria DeVos Foundation
Wolverine Worldwide Foundation

Dreamer's Club: $25,000+

The Family of Richard and Linda Antonini
Daniel and Pamella DeVos Foundation
Dave & Carol Van Andel Foundation
Meijer

Ceremonies Club: $10,000+

ADAC Automotive
Nancy and Jim Ayres
The Currie Foundation
Custer, Inc.
Dean Transportation
Cheri DeVos
Rick and Suzanne Lasch
David P. Mehney
Perrigo Company Charitable Foundation
RDV Corporation
The Shine Foundation
Trion Solutions, Inc.
Anonymous

Special Thank You

Special thank you to the hundreds of donors throughout Michigan who continue to support the basketball endowment.
For gift planning or to make a gift